Explore India's
Historic Gems
With Club Campers
Travel back in time as you journey through some of India's most enchanting heritage sites. With the comfort of our travel trailers, witness history, architecture, and culture, all while enjoying the modern comforts of home.
Bangalore:
The starting point of your caravan journey. As you prep for your trip, perhaps take a moment to relish in the bustling cosmopolitan energy of the city, home to beautiful gardens and rich history.
Mysore:
Royal Resplendence – Experience the grandeur of the Mysore Palace. Lit up in golden hues during the evening, it stands as a testament to the region's regal past. Dive deeper and discover the city's aromatic sandalwood crafts and famed silk.
Hampi:
Stones that Speak – The ruins of Hampi, once a prosperous capital, now weave tales of grandeur and tragedy. Marvel at the intricately carved temples and the mysterious boulders that dot the landscape. The Tungabhadra River adds to the serene charm.
Belur-Halebidu:
Artistry in Stone – A twin heritage site that boasts of exquisite Hoysala architecture. Every stone here narrates stories of gods, goddesses, and legendary wars. The detailed craftsmanship will leave you spellbound.
Aihole-Pattadakal-Badami:
Chronicles of Chalukyas – Traverse through time as you explore the ancient temple complexes from the Chalukya dynasty. Aihole, often dubbed as the 'Cradle of Indian Temple Architecture', complements the grandeur of Pattadakal and the rock-cut cave temples of Badami.
Bangalore to Mysore (150 km | Approx. 3 hours)
Highlights:
Ease of Usage: Begin your adventure with a smooth drive from Bangalore to Mysore. Our trailers are designed for easy maneuverability, ensuring a hassle-free journey.
Mysore Palace: A royal extravaganza of architecture and history awaits.
Camper Tip: After exploring Mysore, park your camper and enjoy local cuisines or a relaxing evening under the stars.
Mysore to Belur-Halebidu (170 km | Approx. 3.5 hours)
Highlights:
Flexibility & Freedom: Traverse the scenic routes at your own pace. The journey is as enchanting as the destination.
Belur and Halebidu Temples: Admire the intricate Hoysala architecture and stone carvings that tell tales of a bygone era.
Camper Tip: Belur and Halebidu are within 17 km of each other, so it's easy to park at a central location and explore both!
Belur-Halebidu to Aihole-Pattadakal-Badami (425 Km | Approx. 9 hours)
Highlights:
Post-Sale Service: Our commitment extends beyond just providing you a camper. We ensure your vehicle remains in top condition throughout your journey.
Historic Temple Complexes: Witness the evolution of temple architecture as you explore these UNESCO World Heritage Sites.
Camper Tip: These sites are approximately 30 km apart. Consider parking your camper at a central spot and using your tow vehicle for local sightseeing.
Aihole-Pattadakal-Badami to Hampi (140 Km | Approx. 3 hours)
Highlights:
Cost-Efficient: Traveling becomes more affordable with no additional tolls for campers. Spend more on experiences rather than expenses.
Hampi Ruins: Dive deep into the history of the Vijayanagara Empire with the mesmerizing stone structures.
Camper Tip: Camp near the Tungabhadra River and enjoy a serene sunset with your loved ones.
Take the journey back from Hampi to Bangalore (350 Km/ Approx. 7 hours), stopping by at the Chitradurga Fort, which is an ancient fort with temples and interesting architecture.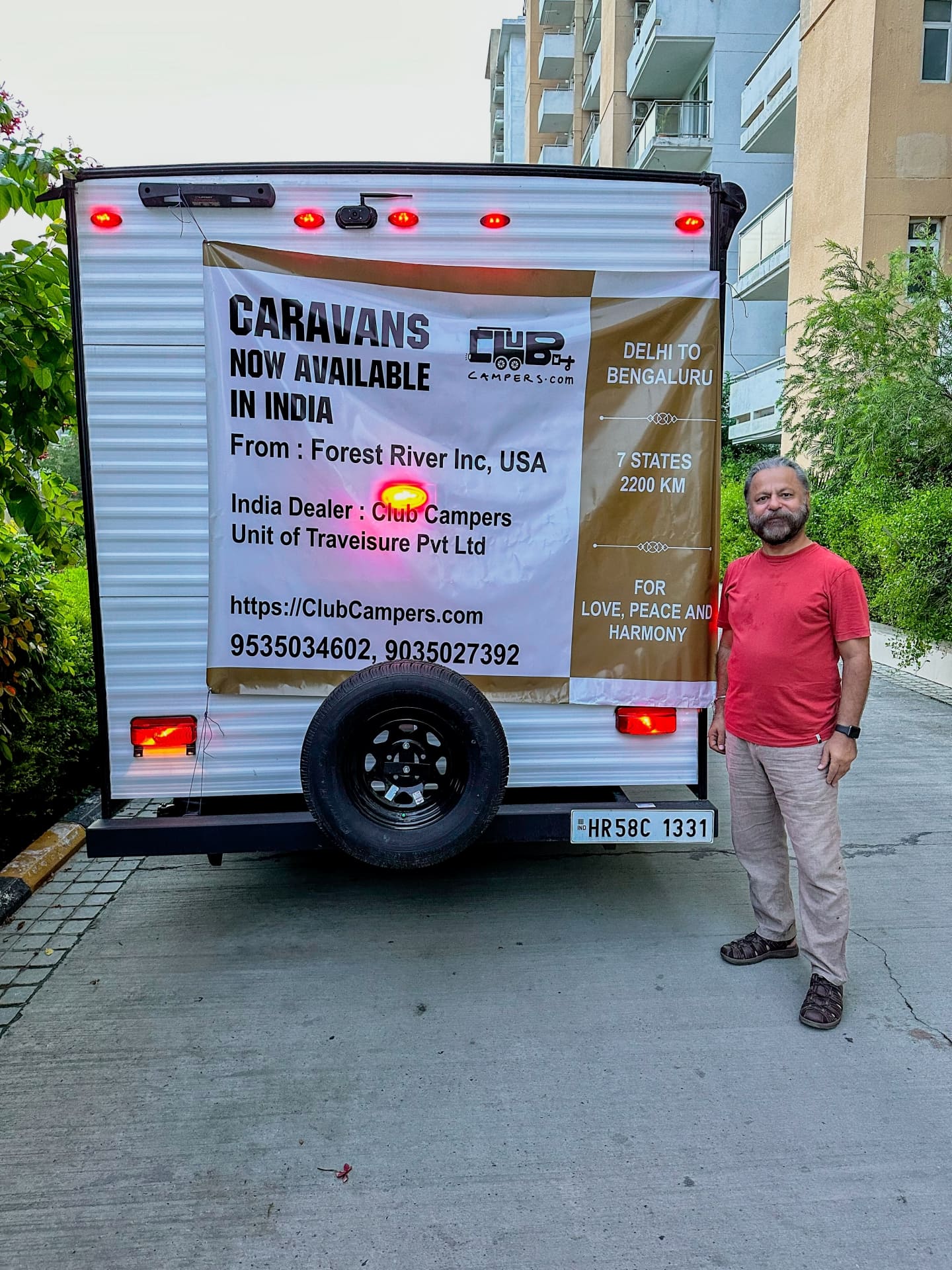 For Love, Peace, and Harmony...
This Heritage Trail is a masterfully curated experience, crafted with the expertise of Kanwal Singh in collaboration with Club Campers. While we've taken great care to design a journey that showcases the best of India's heritage, we understand the allure of personalization. If you wish to customize your adventure, tweak the starting point, or explore new horizons, please don't hesitate to reach out. We're committed to tailoring the experience to best fit your dreams and desires. Your ideal journey awaits; let us help you make it a reality.
Ready To
Embark
on Your Journey?
Your adventure is just a call away! Whether you have questions, need guidance on your itinerary, or are ready to book your camper trail, we're here to help. Reach out to us and let's co-create memories that will last a lifetime. Your unique caravan experience is waiting; all you have to do is take the first step. Contact us now!